Examples of Deburring using BurrBlast K tm
Example One: Stainless Steel
 Example Two:  Stainless Steel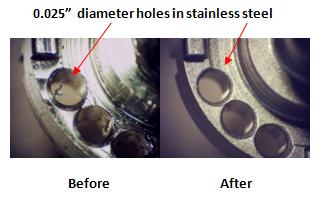 Example Three: Intersecting holes in Titanium
 Example Four:  Precise Deburring & Oxidation Removal on Tool Steel
Micro Sandblasting has a wide range of applications and one of the oldest and most well known is De-burring.  To learn more about Crystal Mark's BurrBlast K ™ a unique abrasive that has raised the bar for quality and precision click here Burr-Blast K™ .
Since 1969 Crystal Mark, Inc. as a team has helped with setting up Micro Sandblaster deburring equipment and accessories while offering Job Shop deburring services to meet customer's requirements.
Our team works with every customer with a consultative approach – we listen to understand the requirements and then recommend product configuration along with an abrasive that will create an effective solution for the customer.  Because of our constructive problem solving approach and unique capabilities of our machines, many of our customers have been able to carry out deburring operations without high skilled labor.
With the precision of the Model LV-1 Micro Sandblaster and modern PLC automation, we can set up a system for precision deburring.  The chances of overworking a part is reduced compared to other deburring techniques. The results are repeatability and higher quality.
Deburring techniques using Crystal Mark's technology and consultation has become a competitive advantage for our customers.
Crystal Mark's products are compact.  The team configures the set up to meet customer's needs minimizing delays in set up and operation.  Crystal Mark gets from referrals of current customers thanks to its outstanding customer support and continuous innovation in technology, parts and abrasives.
We can also deburr machined plastic parts too.  Ask us about how to deburr PEEK
Learn more about MV-2L Sandbasters…
Learn more about LV-1 Sandblasters…