CRYSTAL MARK'S BEGINNINGS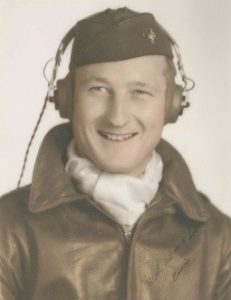 Micro Sandblasting Technology was initially developed in the late 1940s by Dr. Robert Black, specifically for dental cavity preparation.  Ernest Swan (photo left, taken during WWII serving in the Army Air Corps), pioneered many of the non-dental applications and founded CRYSTAL MARK, INC. in 1967. Today, the company is owned and operated by his three sons: E. Michael, Jawn and Marko Swan, who are now joined by two of his grandsons Keith and Scott Swan. CRYSTAL MARK, INC. continues to lead the way in new and innovative applications in Micro Sandblasting Technology.
CRYSTAL MARK, INC. not only manufactures air abrasion equipment and supplies, but also offers "Job Shop" and "Process Development" services in its Glendale, California facility. While our Job Shop offers Micro Sandblasting Services to customers, it also serves as an R&D Lab enabling CRYSTAL MARK, INC. to discover new applications, refinements, and solutions. Some of the industries that benefit from Micro Sandblasting Technology are Aerospace, Front and Backend Semiconductor, Micro Electronics, and Machine shops of all types.  Applications range from the precision surface finishing or de-burring of almost any substrate to machining of semiconductor wafers, Conformal Coating Removal to selective matrix removal from priceless fossils such as dinosaur bones.  Decades of experience have given CRYSTAL MARK, INC. a far-reaching knowledge base and an understanding of the intricate details of applied Micro Sandblasting.