"De-Junking", AKA "De-Flashing" is the removal of excess mold compound that has leaked through or squeezed out around leads on an over molded electronic component or device.  The process has traditionally been accomplished by workers using knives under magnification and manually scraping away the extra material.  This is a labor intensive process at best.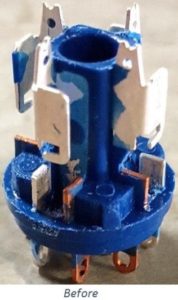 At CRYSTAL MARK, INC. "De-Junking" is done with one of our Micro Sandblasters and to us is one of the well-known applications for our technology.  By using a blast media that is similar to or just slightly harder than the base over-mold compound, we are able to quickly and safely remove 99% of most "flashings".  In some cases, like in the photos shown here featuring a component for an avionics electrical switch, this has reduced the operator's time per part from 30 minutes down to 30-60 seconds.  This happens all without a single scratch on the metallic contacts.
ROI on this equipment is expected within first two months of ownership.
All CRYSTAL MARK, INC. SWAM® line of work stations are designed to comfortably fit operators of any size.  Regardless of whether you choose one of our self-contained stand alone or bench top work stations or a dust collector dependent ERG Work Station, it comes with arm rests and ready to mount a stereo zoom microscope for inspection.  They can even be ordered with UV inspection lights and Ionization for static sensitive applications.