02 Sep

Model 64 & 75 Dust Collectors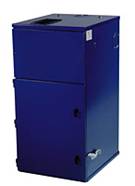 The Model 64 and Model 75 Dust Collectors provide high efficiency air cleaning. With the fan on the clean air side, dust and other collected material are filtered out by the fabric filter before reaching the fan, resulting in long, reliable performance.
The envelope filters provide very high collection efficiencies, trapping dust particles of all sizes, including those smaller than 1 micron. They are rated at 99.9% collection efficiency by weight even with high concentrations of sub micron particles in the air stream. By adding a HEPA pack, the rating is 99.97% efficiency at 0.3 microns.
| Model | Number of Filters | Filter Area | Blower Motor | Rating | Color | Max # or Work Chambers |
| --- | --- | --- | --- | --- | --- | --- |
| 64 | 24 | 60 Sq Feet | 3/4 HP | 67 dba; 400 cfm | White | 1 SWC or 2 MWC |
| 75 | 24 | 120 Sq Feet | 1 HP | 72 dba | Blue | 2 SWC or 1 KWC |
Dimensions of Model with Dust Drawer
| Model | A | B | C | D | E | F |
| --- | --- | --- | --- | --- | --- | --- |
| 64C | 25.7 | 32.9 | 26.3 | 2.8 | 11.2 | 22.4 |
| 75C | 36.3 | 43.5 | 26.3 | 2.8 | 11.2 | 22.4 |
Dimensions of Models with Pail Pack
| Model | G | H | I | J | K | L |
| --- | --- | --- | --- | --- | --- | --- |
| 64H | 68.2 | 61 | 35.4 | 21 | 19.3 | 22.1 |
| 75H | 78.9 | 71.7 | 35.4 | 21 | 19.3 | 22.1 |